1991 Toyota Soarer JZZ30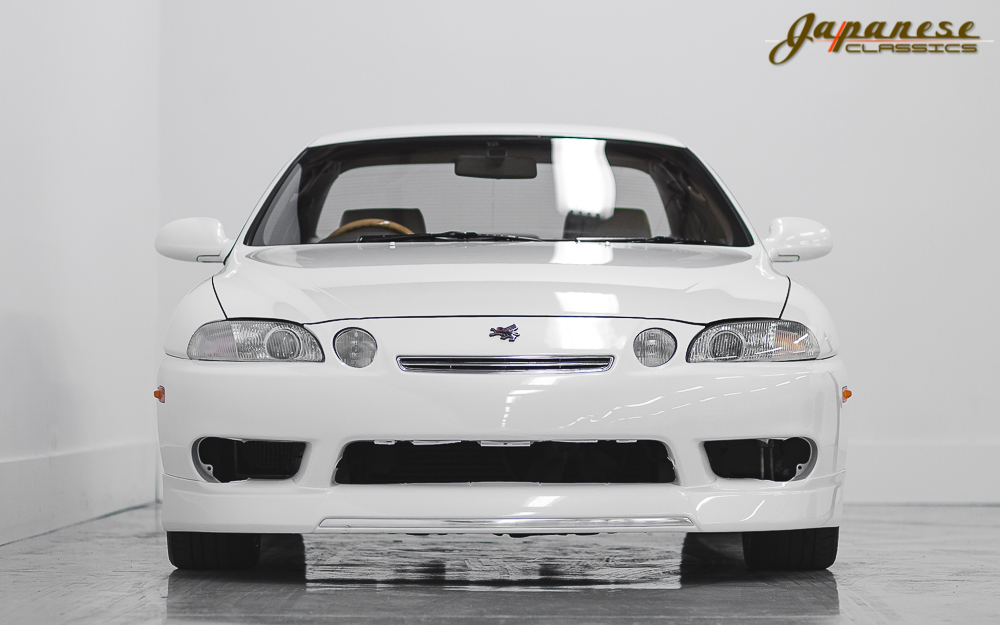 This 1991 Toyota Soarer is the ultimate blend of luxury and performance. In 1991 the JZZ30 debuted in Japan as one of the most extravagant Grand Tourers of it's time. With it's sleek and sophisticated styling it has proven to be an iconic design for years to come. This particular vehicle comes outfitted with a few subtle enhancements to take it to the next level. The front end has been upgraded with the last generation series 3 front bumper. Along with an aftermarket lip to really help add an aggressive look to this long low nose. The fitment of the headlights is slightly off (as can be seen in the pictures) but I imagine with a bit of tweaking would fit like a glove. To compliment the front end a set of factory '97 side skirts were also installed. Out back the rear bumper has been replaced with a mean aftermarket fiberglass piece that would look great with an upgraded exhaust for the 1JZGTE to howl through. Overall the factory paint really shows great and the upgraded bumpers match up well. Free of any major dents or dings the body lines flow great from one end to the other. A set of chrome 224/45/18 Manaray Sport wheels cap off the luxury appearance. In general the wheels show pretty well, however they do have some curb rash around the lip.
The interior is finished in a lovely sand beige. Typically prone to staining this one has been maintained in fantastic original condition. To help keep everything clean a set of aftermarket leather seat skins have been added over the factory cloth seats. The seats underneath are in phenomenal shape so it's future owner will be able to choose which look they prefer. To keep with the '97 factory appearance the steering wheel and all of the trim were upgraded with series 3 pieces. The trim is in spectacular shape along with the dash. The factory digital gauge cluster shines brightly with no dead pixels. The automatic climate control functions magnificently with the air blowing ice cold. However the display for this has begun to dim some along the lower half. A double din Carrozzeria with CD and auxiliary 3.5mm jack were added to make road tripping even more enjoyable.
The powerful 2.5L fires right up and pulls hard all the way to redline. Adding to the desirability of the JZZ30 is the rare factory optioned 5 speed manual. Coupled to the 1JZ makes this one amazing car to get out on the open road with. The clutch engages smoothly and rowing through the gears is an absolute blast. This GT model lives up to its name with a sublime ride geared for long trips. Toyota really hit the nail on the head when the developed the 3rd generation Soarer and this prime example is proof.
Click to read more
Contact for More Information