1990 Nissan Laurel C33 Turbo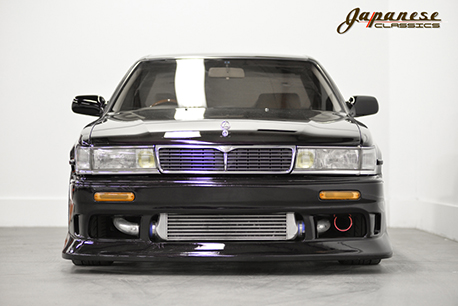 This 1990 Nissan Laurel is drift inspired and ready for immediate use. It's complete with both aesthetic and mechanical modifications throughout. An aftermarket FRP aero kit has been added along with a set of DMax front fenders. It's been converted to a 5-lug setup with Type-M Brakes(slotted fronts) that fill out the 18" Weds LXZ wheels. It's a well presented drift car but the paint and aero fitment are by no means perfect. The body has no major dents or dings and the vehicle has been repainted. The color is a very dark purple that looks almost black when not under direct light.
The interior is well above average for a 25 year old the vehicle. Stock seats are still present and are free of rips or tears. The carpet and door panels are in similar condition. The stock dash doesn't have any cracking or bubbling and is in good condition. There is some sun fading on the interior, which we've found is fairly common on these vehicles. A set of gauges have been fitted along with an aftermarket wheel and M's shift knob.
As with any of our vehicles, a thorough inspection was completed upon arrival. The stock RB20DET did not pass the compression test and was removed from the vehicle. Installed in its place is now an RB25DET (S2) with the appropriate engine harness. A full 3" exhaust with HKS downpipe / test pipe has been installed as well. The induction side is aided by an Apexi intake and HKS front mounter intercooler. The vehicle is lowered via coilovers; Cusco strut bars help to stiffen the chassis. Solid bushings are installed in the rear and the front has received upgraded adjustable tension rods.
Overall this Laurel is a well presented example currently with 72k original miles. Offered at $11,995
Click to read more
Contact for More Information