1990 Mitsubishi Cyborg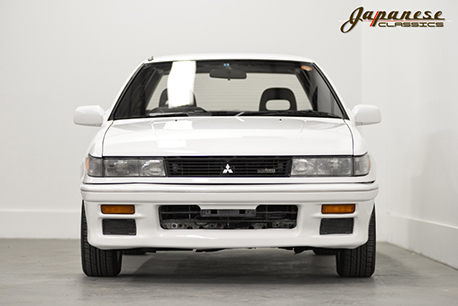 Before the Mitsubishi Evo there was the Cyborg. This Evo predecessor is a rally inspired AWD sedan equipped with a 1.6L turbocharged four cylinder. It's quick, nimble, and has been a blast to drive during our test mileage process. We've found they're extremely difficult to find in Japan and the U.S. market received less than 1,500 of the equivalent models. Parts are no issue since the majority of Mitsubishi Mirage parts are interchangeable.
The exterior on this example is in excellent condition. The OEM Sophia White paint is in great condition and is without major blemishes. The body follows suit and is free of any noticeable dents and dings. The correct factory stickers are intact and in good condition. A set of 14" Advan wheels have been added by the previous owner, but otherwise everything is original.
The interior is in average condition for a 25 year old vehicle. The carpet has been removed and it appears the floor has been undercoated; factory floor mats are fixed to the floor. An aftermarket rally handle has been added to the passenger side, but the interior is otherwise OEM. The seats are in very good condition with one minor seam split on the drivers side. The dash does have cracking throughout, but we've yet to find an example in Japan without this issue. The door panels are in very good condition and show very little wear.
Mechanically the Cyborg runs excellently and needs nothing. An underbody fuel tank guard has been installed on this example. The 1.6L 4G61 turbocharged four cylinder starts right away, idles well, and pulls nicely. The 5 speed manual transmission and AWD system are both functional and operate correctly. The suspension and braking systems have been thoroughly inspected and have proven to be road worthy.
Overall a very rare and unique Japanese classic.
Click to read more
Contact for More Information