1986 Nissan Sunny Truck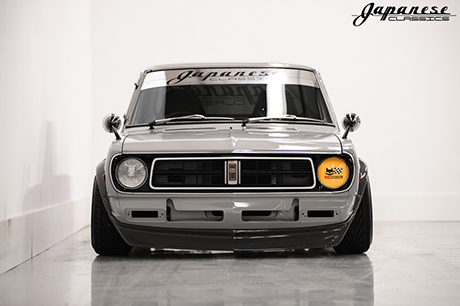 This 1986 Nissan Sunny Truck has been restored in house by Japanese Classics. The exterior look is accomplished with the help of 09 Racing Japan Sanitora flares and 09 Racing Japan Sanitora front Hako style lip. A set of restored vintage Hayashi Racing Command 14" x 8.5/9.5" wheels and Toyo tires fill out the wider flares. The base paint is gray in color and overall in good condition. Vinyl decals have been added to create a unique appearance. The body is in good shape with no major dents or dings; however the bed has been modified for clearance of the rear differential. The engine bay has also been color matched (2 tone) along with the interior compartment as much of the painted surfaces are exposed from the factory.
The factory seats have been recovered in genuine Recaro material creating a unique appearance. The seats, door panels, and black carpet also create a black interior which would have never have been offered in a Sunny from the factory. A Momo Race steering wheel finishes off the interior modifications. The seats and door panels are in good condition with no rips or tears. All of this creates a simple yet extremely clean interior.
Mechanical modifications focus mostly on the suspension setup to achieve the desired ride height. The front suspension has been swapped to custom built Fortune Auto coilovers with 09 Racing Japan camber adjustable top hats. For the rear suspension, 3" steel drop blocks and coilover shocks with external reservoirs have been used. The rear frame rails have been C-notched and welded for clearance and strength. Lastly a Yoshimura carbon tip muffler has been added to give the truck a unique sound. The factory A12 engine has been kept stock along with the rest of the drivetrain. Currently this Sunny Truck has 39k original miles
Click to read more
Contact for More Information