1991 VIPSTYLE Y32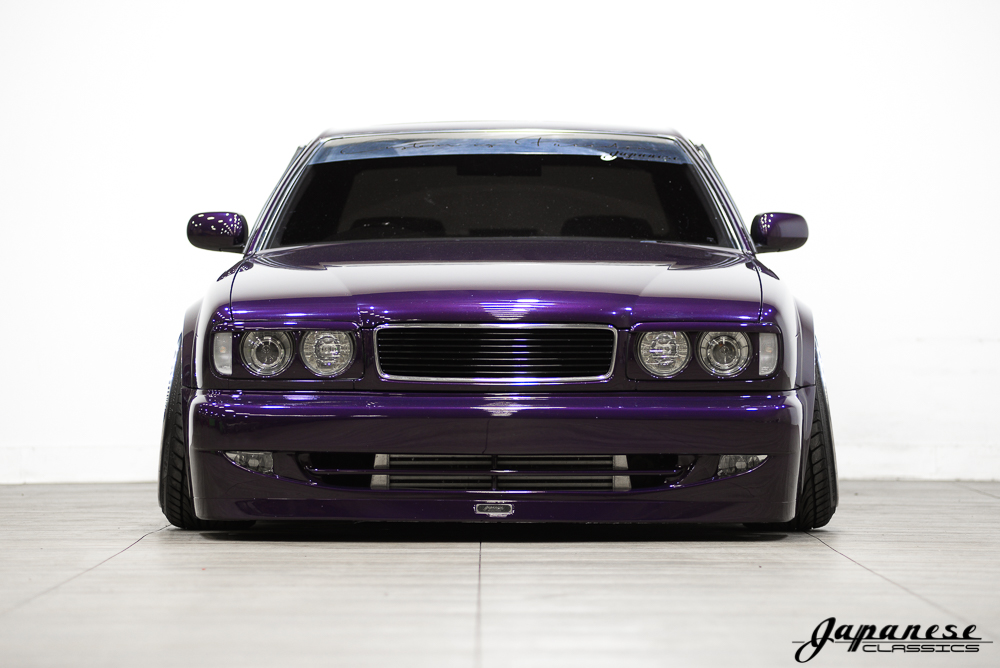 This 1991 Nissan Gloria was built by our shop manager here at Japanese Classics. Brandon originally bought the car in 2016 when it was completely stock and unmodified. Originally this Gloria left the Nissan factory finished in Super Black (KH3), however has received a full color change including all of the trunk and door jambs to what you see here Merlin Purple (LZ3W). In addition to the color Ulterior Motives flares were custom built for the car to accommodate the 5" radius and the aggressive wheels and tires and the inner fenders have been modified to allow the vehicle to be driven at the height you see it. It has made trips from VA to Miami at this static height and is completely drivable. The bumpers and side skirts started as K-Break, however much like everything else on the car these have also been modified and improved on. One-off LED lighting was also added to the front and back, along with 5% tint. The 19" Leon Hardiritt Orden wheel specs are 19x10 -27 and 19x11 -27 and behind them sits a very loud set of CTSV 6 Piston calipers up front and 370z Nismo rear calipers. Even though Brandon has driven this car 37k miles since he has owned it, it still only has 91k verified miles. Additionally, this vehicle will not pass VA state inspection due to the tint as is and will be sold with a rejection sticker and will require enclosed transportation due to the height of the vehicle. The paint and body are in beautiful condition, but this car was built to be driven and has been which means there are some scrapes, and minor cracks in the aero from regular driving. This car regularly wins awards at every show it attends. 
Inside the Gloria is understated compared to the exterior, but several choice upgrades have been selected. The Fabulous steering wheel is the most obvious and is as classy as it is iconic in the vipcar world. Most notably is the fully upgraded audio system built by Brandon and Howe Audio in Richmond, VA. This includes a Pioneer headunit, Pioneer speakers throughout, and Scar Audio amps and subs mounted in a custom built enclosure in the trunk. The factory seats are in great condition with minimal bolster wear on the drivers seat. The carpets and headliner show no major stains or tears and the door panels are all in nice condition, however the wood insert on the driver door is broken which is a common Y32 issue. The sunroof functions up and down but the slide function no longer works. The automatic climate control functions properly and blows hot heat or cold A/C on command. Overall a clean and tidy interior that's been very well kept and even includes brand new Imperial Mats floor mats made specifically for this Y32!
The suspension has been completely modified up front utilizing S-Chassis front suspension with Fortune Auto coilovers. Fortune Auto coilovers are out back as well as Parts Shop Max adjustable arms. Additionally, Fortune Auto's air cups have been installed making driving over obstacles a breeze however these can not be used for normal driving, only for clearing a speedbump and then returning to static height. They work great and make driving a car this height much more manageable. The air tank and compressor are hidden under the amp enclosure in the trunk. 
This Gloria is the top trim model, Gran Turismo Ultima, and as such comes equipped with the 3.0l turbocharged VG30DET. Packing plenty of power for a vipcar and upgraded with a HKS intake and one-off exhaust system. Additionally the engine has been raised slightly and a rare OEM R32 skid plate has been adapted to fit to prevent oil pan damage. The skid plate does hang quite low and scrapes the ground regularly. Additionally the automatic transmission shifts well and the massive brakes have no issue slowing this Gloria down.  The intake manifold and valve covers have been powder coated and new gaskets installed recently along with a new rear main seal. However, this Y32 isn't perfect and does have a minor oil leak from the front main seal, and a small leak from the power steering. However, overall it's hard to beat how good this vipstyle Y32 drives and looks. This unique Gloria is ready for it's next owner and is guaranteed to turn heads everywhere it goes! 
Click to read more
Contact for More Information