1994 Hilux Surf N130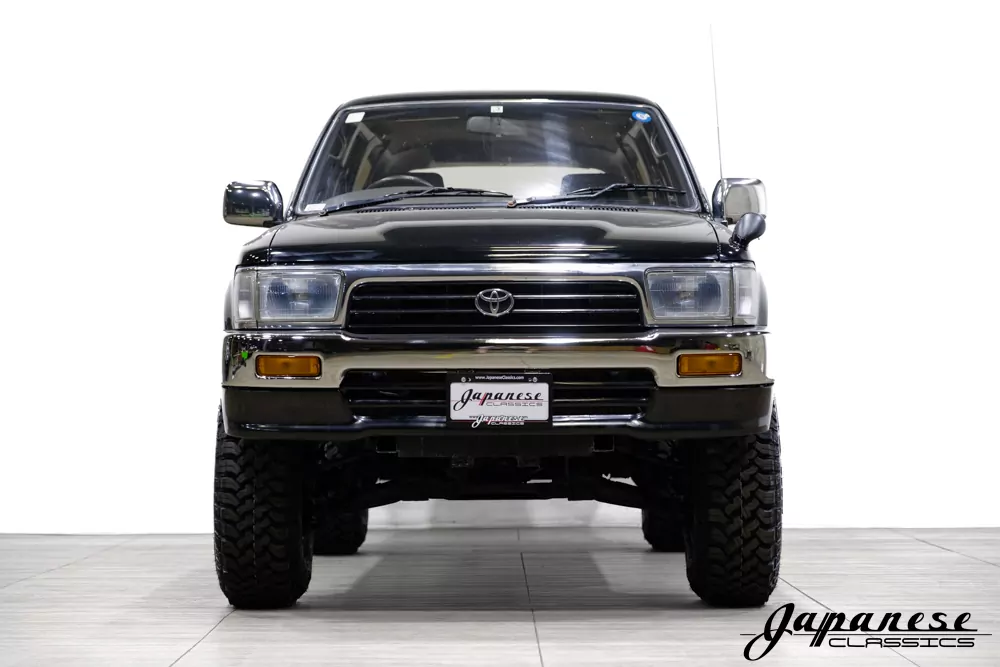 Stock #6012
This 1994 Hilux Surf is a great no-frills diesel rig. Perfect for daily driving, a rural postal route, or dedicated trail usage, what this N130 lacks in refinement, it more than makes up for in capability and grin-inducing turbodiesel power. Finished in a Toyota Black (204) and defined by custom shaved bodywork, an OEM spoiler, and refinished gunmetal-colored aftermarket 16" alloys, this truck looks all business! It has its fair of body defects including some scuffs, chips, touchup paint, surface corrosion, and a missing spare tire carrier, but this truck isn't supposed to be a show queen. It's priced for someone who values low mileage, mechanical condition, and an above-average driving feel. With a mere 99k  verified and documented miles on the clock, this 4WD rig is barely broken in and is fresh off a recent service. For a capable hauler with the looks and drivetrain to back it up, this Japanese Classic Surf can't steer you wrong and its nearly bulletproof nature will ensure happiness for many years to come!
Much like the exterior, the interior has stood up to almost three decades of use without falling victim to any serious wear or tear. This should stand as a testament to Toyota's build quality at the time, as the interior upholstery is in great nick save for a tear on the driver's seat bolster and a couple of typical cracks atop the dash from the harsh rays of the sun. It also includes a sporty DP Racing steering wheel that feels perfect in the palms of your hands. The remaining interior materials are in fine shape, from the matching cloth inserts in the door cards to the headliner and carpet beneath. The center stack houses a touchscreen Carrozzeria audio system, which pumps out audio at above-average quality. Adjacent to the radio, climate controls are easy to operate and cold A/C is on hand to guide you through these last dog days of summer. Daily use is made easy, thanks to functional power windows, locks, and power mirrors. Unique to the 4Runner and Surf platform, the rear glass also powers down for some added utility or ventilation for your passengers and pets in the back, and an optional power moonroof is fully operational. This SUV excels at hauling passengers, and the rear bench can fold forward should you prioritize cargo space instead. A tilt adjustable steering column accommodates drivers of all shapes and sizes, and the dash is unobtrusive giving you a clear view out of the windscreen. We've even retained the owner's manuals for the American buyer to enjoy!
The 1KZ-TE under the hood is known globally for having a nearly unstoppable reputation on or off the beaten path. Powerful, simple to service, and frugal to operate, it's no surprise this durable 3.0L has built up such a cult following over the years. Ours has been recently serviced by our trained technicians and is fresh off an oil and filter service. To seal this one up against any unwanted leaks of lubricant, a new valve cover gasket was installed up top, and the engine air filter and fuel filter were replaced for a bit of a preventative tune-up. She also starts up in a jiffy thanks to two new US-spec batteries we installed under the bonnet. Running on a professionally rebuilt ECU backed by a lifetime warranty, this 1KZ feels healthy as a horse and springs up to highway speeds in an instant. Selective 4WD is on hand if an off-road excursion is part of the plan, and the suspension offers ample ground clearance while still feeling comfortable overall. To get this drivetrain turnkey ready, Both inner and outer tie rods and all end links were replaced in addition to new front lower ball joints and a new idler arm. A new outer CV boot on the left front axle keeps the grease where it belongs, and this truck stops on a dime thanks to new brake pads and rotors up front. Lastly, the Falken rubber was installed here and is brand new. Not only do the 33" all terrains look great, but they'll deliver plenty of grip wherever you need it most!
*California Residents: In order to register a Grey Market vehicle in the state of California then it will have to be made CARB compliant first. CARB certifications will have to be performed within the state. Depending on the vehicle and any existing modifications will affect the pricing. Typically CARB compliance will range between 5-10K. Additional information can be found on the California Air Resources Board website.
Click to read more
Contact for More Information