1996 Toyota Camper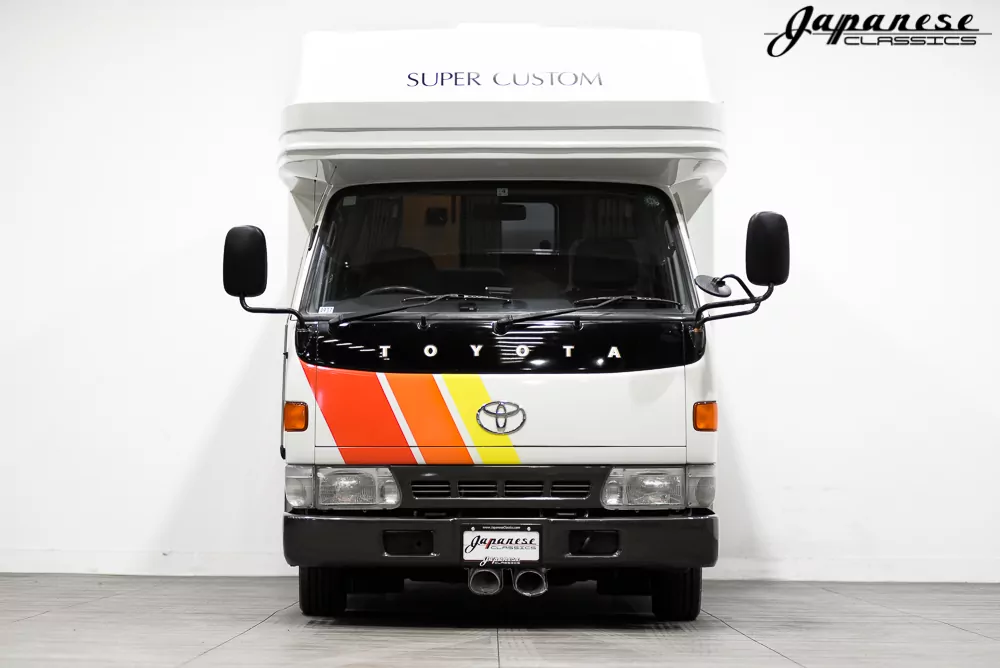 Stock #4937
Camping in easy-to-drive vans had become all the rage here in the US and for good reason. They are easy to maneuver and can go places a large RV can not. Additionally, it's much less stressful driving a smaller vehicle across the country. This 1996 Toyota Dyna Camper might just be the best of both worlds! Small enough to feel at ease behind the wheel and can get to more remote locations easily but large enough to have everything you need, including the ability to sleep four, and the kitchen sink! Best of all this little camper has just 93k verified and documented miles and a reliable diesel power plant to boot! The exterior is in overall great condition, there are some scuffs and scratches around the body but minimal overall. The Toyota livery looks killer and fits the era perfectly. 
Inside the front cabin, you'll find seating for three and a clean and tidy interior. The seats have faired well over the years and lack any significant wear. The airconditioning works properly via analog climate control and the power windows function properly for the cool autumn days ahead. The no-frills front cabin is connected to the amenity-filled rear cabin that has everything you might need during your next adventure in this beautiful country we live in. A fold-away table and lay flat seating provide a space for you to enjoy your morning coffee or a favorite meal which can quickly and easily be prepaid on the two-burner stove which is beside the kitchen sink. When not in use a glass panel folds down to cover the burners and provides additional counter space. Sleeping space is provided over the front cabin, a fold-down extension provides a roomy sleeping area and folds up and out of the way when not in use. A built-in shower and toilet give you the freedom to not have to stop constantly on road trips for those who may need to use the facilities or simply need a refreshing shower. There's even a mini-fridge to keep your food and drinks cold. The clever design of this rear cabin allows for a compact design that provides all that you would need for a self-sufficient adventure!
Powering this camper is Toyota's reliable 3L diesel 2.8l 4 cylinder engine mated to a convenient smooth shifting automatic transmission. The engine fires up quickly thanks to 3 brand new 12v batteries and is fresh off an oil and filter service we performed here at our facility. This camper achieves highway speeds without any fuss and is happy cruising along at about 65mph. We have installed brand new struts at all four corners to keep this camper planted on the highway and they soak up bumps in the road easily. New front brake pads allow the brakes to slow the camper down confidently when necessary. A gas-powered onboard generator is present and while untested, if working allows you to keep the cabin powered while the engine is off. A new fuel filter and right rear axle seal top of the maintenance we performed making this camper road-ready for its next adventure with you! 
*California Residents: In order to register a Grey Market vehicle in the state of California then it will have to be made CARB complaint first. CARB certifications will have to be performed within the state. Depending on the vehicle and any existing modifications will affect the pricing. Typically CARB compliance will range between 5-10K. Additional information can be found on the California Air Resources Board website.
Click to read more
Contact for More Information